Alle anzeigen Transferschalter für die Rackmontage
Zum Zoomen mit Maus übers Bild fahren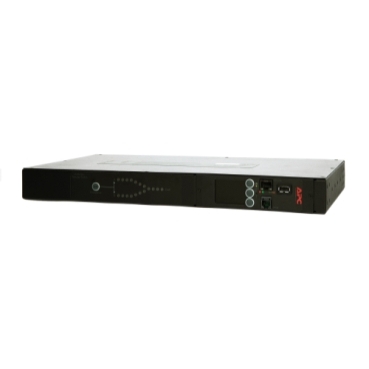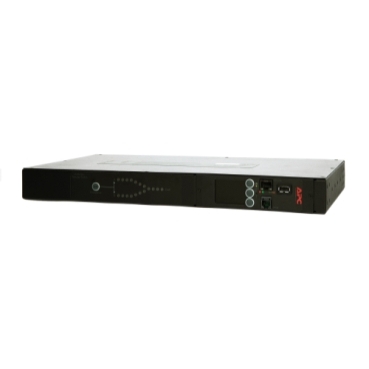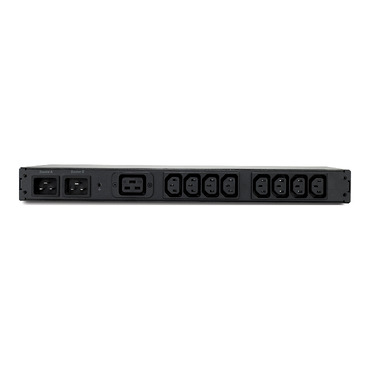 Rack ATS, 230 V, 16 A, C20 Eingang, (8) C13 Ausgänge, (1) C19 Ausgang
AP4423
Der Verkauf wird eingestellt am:
30 Dezember 2022
Empfohlene(s) Ersatzprodukt(e)
AP4423 wird ersetzt durch:
Beschreibung
Der APC Rack Automatic Transfer Switch (ATS) ist ein Hochverfügbarkeitsschalter, der die angeschlossenen Geräte redundant mit Strom versorgt und über zwei Eingangsstromkabel verfügt, eines für jede Wechselstromquelle. Die Ausgangskonfiguration ist 8x C13 und 1x C19. Der Rack ATS versorgt die angeschlossene Last über eine primäre AC-Quelle mit Strom. Wenn diese primäre Quelle nicht mehr verfügbar ist, überträgt das Rack ATS die Lasten automatisch auf die sekundäre Quelle. Die Umschaltzeit von einer Quelle zur anderen ist für die angeschlossenen Geräte nahtlos, da die Umschaltung sicher zwischen den beiden Eingangsquellen erfolgt, unabhängig von etwaigen Phasenunterschieden. Die Geräte verfügen über eine integrierte Netzwerkkonnektivität, die eine Fernverwaltung über Web, SNMP, SHH, Telnet oder StruxureWare™ Data Center Expert ermöglicht. Mit mehreren Ausgängen können mehrere Geräte direkt an das Rack ATS angeschlossen werden, ohne dass eine zusätzliche Rack PDU erforderlich ist. Stromüberwachung und Alarme tragen dazu bei, Ausfallzeiten der Geräte zu vermeiden, indem sie aggregierte Strommessungen und Warnungen bereitstellen, wenn sich der Stromverbrauch der maximalen Nennleistung des Rack ATS nähert. Integrierte Netzwerk- und lokale Schnittstellen ermöglichen benutzerdefinierte Konfigurationseinstellungen für zusätzliche Flexibilität.
Spezifikationen
Übersicht

| | |
| --- | --- |
| Ausführung | The APC Rack Automatic Transfer Switch (ATS) is a high availability switch that provides redundant power to connected equipment and has two input power cords, one for each AC source. The output configuration is (8) C13 and (1) C19 The Rack ATS supplies power to the connected load from a primary AC source. If that primary source becomes unavailable, the Rack ATS automatically transfers loads to the secondary source. The transfer time from one source to the other is seamless to the connected equipment, as the switching occurs safely between the two input sources regardless of any phase differences. The units have built-in network connectivity, which allows for remote management through Web, SNMP, SHH, Telnet, or StruxureWare™ Data Center Expert. With multiple outlets, several devices can be plugged directly into the Rack ATS without the need for an additional Rack PDU. Current monitoring and alarms help prevent downtime to the equipment by providing aggregate current measurements and warnings when power consumption draws near the maximum rating of the Rack ATS. Built-in network and local interfaces allow for custom configuration settings for added flexibility. |
| Lieferzeit | Normalerweise auf Lager |
Hauptmerkmale
Main Input Voltage

230 V

Main Output Voltage

230 V

Input Connection Type

IEC 60320 C20

Nummer der Rack-Einheit

1U

gelieferte Ausrüstung
Montagezubehör
Rack-Montagehalterungen
Serielles Konfigurationskabel
Abmessungen
Farbe

Schwarz

Höhe

4,4 cm

Breite

43,2 cm

Tiefe

23,6 cm

Produktgewicht

3,74 kg

Montageort
Front
Rückseite
Montagepräferenz

No preference

Montagemodus

Schrank- und Schalttafeleinbau
Eingang

| | |
| --- | --- |
| Netzwerkfrequenz | 50/60 Hz |
| Max line current | 20 A |
| input current limits | 20 A |
| Load Capacity | 3700 VA |
Ausgang
Maximale Stromaufnahme pro Phase

16 A

number of power socket outlets
8 IEC 60320 C13
1 IEC 60320 C19
Schutzart

Without circuit breaker
Konformität
Produktzertifizierungen
cUL-gelistet
CE
UL-gelistet
Normen
EN 55022 Klasse A
FCC part 15 class A
Umgebung

| | |
| --- | --- |
| Umgebungstemperatur bei Betrieb | -5…45 °C |
| Relative Feuchtigkeit | 5…95 % |
| Aufstellungshöhe | 0 - 10000 ft |
| Umgebungstemperatur bei Lagerung | -25…65 °C |
| Relative Feuchtigkeit bei Lagerung | 5…95 % |
| Aufbewahrungshöhe | 0,00…15240,00 m |
Verpackungseinheiten

| | |
| --- | --- |
| VPE 1 Art | PCE |
| VPE 1 Menge | 1 |
| VPE 1 Höhe | 11,4 cm |
| VPE 1 Breite | 35,6 cm |
| VPE 1 Länge | 60 cm |
| VPE 1 Gewicht | 5,51 kg |
Vertragliche Gewährleistung

| | |
| --- | --- |
| Garantie | 2 Jahre Garantie für Reparatur/Ersatz |
Nachhaltigkeit
Mit der Kennzeichnung Green PremiumTM verpflichtet sich Schneider Electric für die Lieferung von Produkten mit erstklassiger Umweltleistung. Green Premium verspricht die Einhaltung aktueller Vorschriften, Transparenz in Bezug auf Umweltauswirkungen sowie Wiederverwertbarkeit und Produkte mit niedrigem CO2-Fußabdruck.
Weitere Informationenarrow2_left
Ressourcenleistung
Take-back program available
Angaben zur Umweltfreundlichkeit & Nachhaltigkeit
Informationen zu RoHS-Ausnahmen
Benötigen Sie weitere Informationen? Lesen Sie unsere technischen FAQs!
Finden Sie hier ganz einfach die Antwort unter den am häufigsten gestellten Fragen.