Tout afficher

NetShelter

SX Enclosures
Passez le curseur sur l'image pour zoomer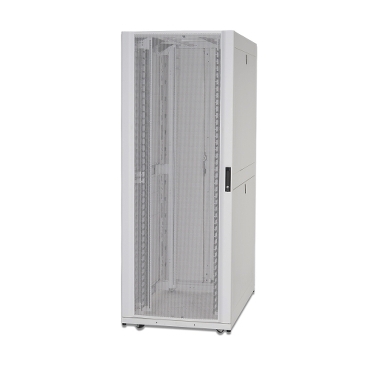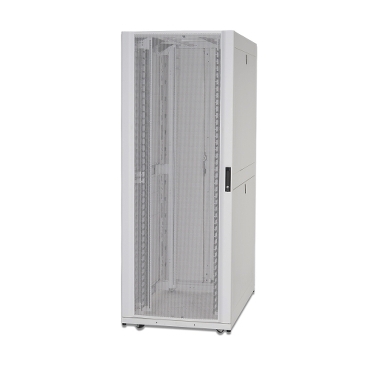 APC NetShelter SX, Networking Rack Enclosure, 42U, Grey, 1991H x 750W x 1070D mm
AR3140G
La production de ce produit a été arrêtée le:
10 juin 2022
La référence AR3140G n'a pas été remplacée. Veuillez contacter votre
service client
pour plus d'informations.
Spécifications
Présentation

| | |
| --- | --- |
| Présentation | NetShelter SX Networking Enclosure expands Schneider Electric's superior IT enclosure line with improved support for high density networking applications. Integrated high density cable managers and improved cable access roof provide support for large cable bundles. When combined with the Side Airflow Duct Kit, the Networking Enclosure ensures complete isolation of cold intake and hot exhaust air for large switches and SAN directors. |
| Lead time | Généralement disponible en stock |
Principal
nombre d'unité de rack

42U

équipement fournis
matériel pour montage en compartiment
CD de documentation
touche(s)
portes et panneaux latéraux à codage identique
pieds de réglage
matériel de montage
roulettes pré-installées
panneaux latéraux
manuel de l'utilisateur
passe-câbles verticaux
Physique
couleur

Gris

hauteur

199,1 cm

largeur

75 cm

profondeur

107 cm

poids

155,95 kg

emplacement de montage
Façade
Arrière
Montage préconisé

No preference

mode d'installation

Non montable en rack

Profondeur de montage maximale

81,92 cm

Profondeur de montage minimale

27,94 cm

Largeur du rack

19"

Marquage
Calibre 14 rail de montage EIA
Calibre 16 porte avant
Calibre 16 poste
Calibre 16 porte arrière
Calibre 18 toit
Calibre 18 panneaux latéraux
charge permanente admissible
1020,58 kg dynamique
1700,97 kg statique
Conformité
normes
UL 2416
UL 60950-1
EIA-310E
Emballage

| | |
| --- | --- |
| Poids de l'emballage (Kg) | 168,18 kg |
| Hauteur de l'emballage 1 | 211,8 cm |
| Largeur de l'emballage 1 | 85,09 cm |
| Longueur de l'emballage 1 | 121,9 cm |
| Nb produits dans l'emballage 3 | 1 |
Garantie contractuelle

| | |
| --- | --- |
| Garantie | 5 year repair or replace |
Développement durable
Le label Green PremiumTM montre l'engagement de Schneider Electric à fournir des produits aux performances environnementales exceptionnelles. Green Premium garantit le respect des dernières réglementations, la transparence de l'impact du produit sur l'environnement, ainsi que des produits circulaires avec de faibles émissions de CO2.
En savoir plusarrow2_left
Performances des ressources
Take-back program available
Performances en matière de bien-être
Sans métaux lourds toxiques
Information sur les exemptions RoHS
Conformité pro-active (Produit en dehors du scope légal RoHS UE)
Vous avez besoin d'autres informations ? Consultez nos FAQ techniques !
Trouvez facilement des réponses aux questions les plus fréquemment posées.